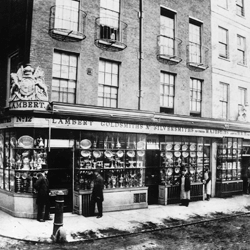 A shop front such as the one shown here is rarely, if ever, seen today. The buying public can no longer expect to find a well-stocked retail silversmith in every provincial town, nor even in a capital city, as was the case 50 years ago. But there are many ways of buying silver of all periods.
The Silver Society does not give advice on the buying or selling of silver, nor can it recommend any dealer or auctioneer or comment on values.
Some dealers exhibit only at fairs but others continue to run a retail shop. Many belong to trade organisations such as the BADA or LAPADA and are listed on their websites.
Numerous fairs are held each year; the major venues are:
Tefaf Maastricht, Netherlands, held in March Winter Antiques Show, Seventh Regiment Armory, New York, January
BADA fair, London, March
Masterpiece, London, June to July
Art Antiques London, June, London
Olympia, London
The major international auction houses advertise widely, but there are numerous other auctioneers, both national and local, who hold regular sales of silver. Many now operate internet bidding.
Looking at, and handling, silver at fairs and auction viewings is a wonderful opportunity to learn.