ELEMENTS: 28 – 30 October – Silversmiths by Kier Mulholland
For this year's edition of Elements we were delighted to welcome back, in conjunction with the Incorporation of Goldsmiths, silversmiths and jewellers from all over the country in person from as far north as Shetland to Cornwall. Now in its 8th year, the saleroom in Edinburgh teamed recent Scottish college graduates with industry stalwarts all able to discuss their making processes and to sell their products.
Traditional working practices are still a key element within many silversmiths' making processes. Annabel Hood and Katie Watson include hand engraving to create visually appealing surface decorations: Watson uses engraving to create imaginative illustrations of lively creatures and scenes from nature whilst Hood uses the technique to engage the mind of the viewer and allude to her inspiration from climate change. Echoes from nature also combine with tradition in Scott Smith's work; he uses carving, raising and casting of wood chips found in his studio, in a meditative way to create his silverware, which is inspired by the wild Scottish landscape.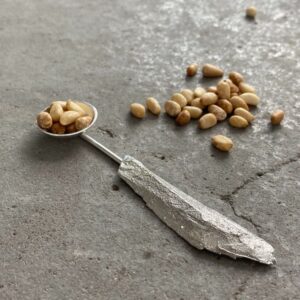 Scott Smith
Scott Smith was one of the speakers for our Saturday evening talk in conjunction with the Goldsmiths' Craft and Design Council winners exhibition on display, which saw Fred Rich's impressive 'Fair Game' enamel vases on display. As the recipient of the 2D Goldsmithing Award sponsored by Gosset Champagne, Smith discussed his rapid rise in the industry. Other speakers included Lynne Maclachlan. A joint talk by Theresa Nguyen and John Andrew showed the relationship between patron and silversmith and the astonishing result of her 'Meadow Centrepiece' which came to fruition during lockdown.
Inspirations from nature and Scotland are also present in Emma Louise Wilson's work. Wilson takes her inspiration from the Scottish landscape and weather and creates unique silver bowls by hand-raising in a contemporary way. Several of the silversmiths purposely apply traditional techniques to reinvent and revive. Both Wilson and Jessica Jue offered insight into how tradition can be reinvented; Jue uses the hammering to give expression to her sculptural designs which convey a sense of rhythmic movement. Kyosun Jung intentionally uses traditional techniques, to revive them; her contemporary silverware blends modest form with animated decorations to create objects with great visual impact. 
Digital techniques also combine with traditional metal working skills to create innovative silverware. Sheng Zhang and Caiyan Yin, (the most recent recipient of the Silver Society Prize), use digital techniques to produce work which conveys the aesthetics of minimal style, demonstrated through purity of visual language. Karen Westland makes handmade 3D printed silverware using 100% recycled materials inspired by equipment built to explore outer space.
A fascinating process was shown by Alice Fry who uses electric current at different voltages run through niobium to create a variety of hues from orange to purple. A technique first explored in the 1960s Alice has honed her skill and now has an instantly recognisable product with her geological inspired forms.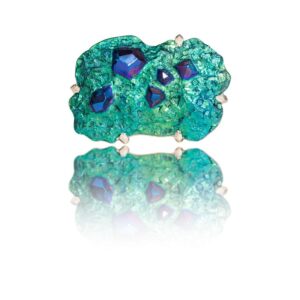 Alice Fry
This selection of Element's exhibitors and the emerging talent from the colleges show how diverse and imaginative all the techniques and works are. We were delighted to welcome so many people back into the sale room at Lyon & Turnbull auction house for Elements Festival which gives clients the opportunity to really engage with each maker.
SILVER SOCIETY VISIT TO MOUNT STUART, ISLE OF BUTE
6 October 2022
Despite complications caused by rail strikes a small group made it to Mount Stuart, the extraordinary house designed for the 3rd Marquess of Bute by Robert Rowand Anderson, the interiors of which were in fact never completed after the death of the Marquess. The morning was taken up with a tour of the house, with its views across the Clyde although somewhat shrouded in rain clouds, with its myriad interior details such as the door furniture, light fittings and tapestries, as well as a fine display of Scottish eighteenth-century silver in the dining room.  The interiors were enhanced at a later date by carefully considered additions to some of the decorative schemes made by 6th Marquess of Bute.
Cover of Lord Bute's water bottle, London, 1880, by Jess Barkentin and Carl Krall, silver-gilt and enamel
In the afternoon we were given a tour by Jessica Insley, Curator of the collections, of the small but remarkable exhibition Fantasy to Fabrication, 19th century design at Mount Stuartshowing pieces from the family collection, designed by William Burges for the 3rd Marquess, such as the remarkable Cat Cup (1867), with its carved rock crystal body, in conjunction with their original design drawings.  Other Burges-designed pieces in the exhibition included the key to the house in its original case, and a gem-set brooch made to mark the marriage of the Marquess to Gwendolen Fitzalan-Howard, a figural cruet (1877) by Jess Barkentin and a water flask encased in pierced and engraved silver-gilt (1880) by Barkentin and Krall, with a cover decorated with vivid enamels. It was a rare and wonderful opportunity to see the extraordinary quality of the craftsmanship in conjunction with the meticulously detailed drawings, with their careful annotations and instructions made for one of the most intriguing patrons of the nineteenth century.  
Visit to the silver collection of the Saddlers; Company –  24 October 2022
The visit was arranged by Jonathan Ellis and was attended by seventeen members. On arrival at Saddlers' Hall we were greeted by the Beadle, Keith Marsh, who gave us an introduction to the history of the Company and some of its treasures which included some historic saddles. The earliest surviving record referring to a guild of Saddlers in London dates from 1180. The Company received its first known Royal Charter, more correctly a grant of liberties. from Edward III in 1362. This was followed by the Incorporation Charter of Richard II in 1395 and was updated by the Royal Charters of 1424, 1684 and 1995. We were visiting the fourth Hall, the previous three having either burnt down or been bombed.
We were shown into the Livery Hall where twenty-two pieces of silver, selected by Jonathan Ellis, had been laid out by the Silver Butler Max Ballaro.
Following the Civil War and the Fire of London which destroyed the first Hall, the Company embarked on a policy of replacing silver which had been sequestered during the Civil War and those pieces destroyed in the fire by purchasing silver and encouraging their members to donate plate to the Company.
We were able to handle a silver-gilt cup and cover, probably by Hugh Bollen, of 1653, and another magnificently chased silver-gilt cup and cover of 1657. There were three capstan salts: one of 1661 by an unattributed maker; one of 1676 by Thomas Ash; and a third unusual example from the reign of James II of 1686 by an unattributed maker. We also looked at a  very large chased silver-gilt tankard by Jacob Bodenick of 1676.
Other pieces included a superb tankard bearing the arms of the Saddlers' Company, and  weighing 33 oz, of 1676. The records of the Company show that it was purchased with the proceeds of the sale of silver spoons. The writer identified that the maker's mark was possibly that of John Richardson whose premises were in Stayning Lane close by to Saddlers' Hall in Gutter Lane.
Other pieces included two pairs of fluted column candlesticks; one pair of 1679 probably by Daniel Beverley and another pair of 1703 with octagonal bases by Richard Synge which had some later alterations. Abraham Hinde was represented by a porringer and cover of 1681. A massive embossed ewer and basin of 1682, probably by Edward Gladwin, were on view and a Master of the Saddlers' had donated a large silver tankard of 1686, maker's mark RS, in 1695.  John Packe Master in 1698 had donated a large engraved monteith dated 1698 by Isaac Dighton and the collection includeded another monteith of 1720 by Anthony Nelme.. There was also a peg tankard of 1719 by the Oslo maker Matthias Remerdes to look at while Dublin was represented by William Townshend whose mark was on a cup and cover. A large campana shaped, silver-gilt cup of 1819 by Philip Rundell and a heavily decorated, large dish, with a 24 in diameter, by Edward Barnard & Sons were some of the later pieces that we were able to inspect.
Four pieces of contemporary silver were included in the selection: two casters of 1973 by Gerald Benney; a 30 inch high candlebra with nine sockets and weighing many kilos, by Anthony Elson and made to celebrate the Queen's Silver Jubilee of 1977; a most unusual silver Fair Ground centre piece with eight horses which turns on a smooth axis, commissioned in 1989 by the Master from Sarah Silver,  and the Charter Candelabra Anthony Elson to celebrate the Charter of 1995.
Fair Ground centrepiece, 1989, Sarah Silver.
For us as members of the Silver Society it was most enjoyable to see silver from such an early period that was kept in great condition and which is still in use for display at Saddlers' Company dinners.
Simon Davidson
Meeting –  24 October at the Goldsmiths' Centre, Clerkenwell, London
Adi Toch,  in conversation with Jessica Eddie, gave a fascinating insight into her working processes during the commissioning, designing and making of the gold piece, Place to Place, made for the Gilbert Collection at the V&A, in response to the return to Turkey, in 2021, of an Anatolian gold ewer.
The Annual General Meeting – 21 November 2022
Chairman Arthur Drysdale and Dora Thornton at Goldsmiths' Hall
We enjoyed a wonderful evening in the splendid surroundings of Goldsmiths' Hall. Thirty  members attended and there were a number of apologies and proxy votes. The formal part of the meeting included the Chairman's review of a very busy and successful year for the society and the announcement of an exciting programme planned for 2023. Our finances are in good heart and our membership remains reasonably stable. Draft Minutes will be available on the Silver Society website.
Following the AGM Dora Thornton gave a fascinating talk about the Goldsmiths' Company's collection which was richly illustrated with slides.  With the help of the curatorial team those attending also had the  opportunity to see some of the items Dora had discussed. 
As ever thanks are due to the unsung heroes, Luke Schrager and Chris Blackler, for their work sorting out our name badges and for manning the wine bar – including Christmas nibbles on this occasion.  The Society is very grateful to the Wardens of the Goldsmiths' Company for the generous loan of the Hall for our AGM.
Zoom of AGM: We understand that the quality of the Zoom was poor and not up to our normal standard. We are very sorry about this; we tried very hard but unfortunately technology was against us. It was also not possible to record Dora Thornton's lecture. Please accept our apologies.
Lyon & Turnbull auction report
Taking a retrospective look at the past year of sales, gives a great opportunity to view many of our highlights. Click on the underlined items to see the item.
As the market leaders of silver in Scotland, we are able to uncover some especially rare pieces.  At Lyon & Turnbull, our year begins in August with the annual Scottish sale. One discovery, a pair of Scottish provincial salvers presents the high standard of work by John Baillie of Inverness, and are in fact the only salvers documented by an Inverness maker. Scarcity is key to the popularity of Provincial silver and with only three masking spoons of this unusual design known from Tain, it is not hard to see why there was such interest, especially with the intricate stem. Provincial silver illustrates the far-reaching centres of commerce predominantly between the second quarter of the 18th century to the early 19th century, around Scotland from Forres and Banff in the North to the West with Greenock to name just a few.
Shifting our attention to a more contemporary period, the work of Graham Stewart based in Stirlingshire has really started to gain traction in the secondary market. Following his untimely death in 2020, a collector's market is now becoming more and more apparent. A bellied water jug with it's elongated scrolling forms, exemplifying his stylistic sensibilities which were drawn mainly from nature. This is also seen in the hexagonal form of a 'honeycomb' candlestick. The fundamental intertwined nature of silver pieces and their story is an important facet of what makes silverware so intriguing. Hence, the fact that most vendors met and bought from Graham Stewart personally, is a key aspect to why these pieces are appreciated.
The ability that silver has to bring people together has always been the case, silverware adorned tables where they could be admired by dining guests. A couple of highlights which portray this dining culture which have been sold over the past year are most recently A scarce Victorian novelty silver and parcel-gilt mustard, formed as a seated monkey. The novelty form enhances any dining table, and grants us insight into the great care that went into a grand Victorian dinner party. Additionally on a much larger scale, lot  A Victorian soup tureen,adorned with the family armorials of Campbell and Bannerman, continues this sentiment into the more domestic and practical sphere, as great care and investment was put into items of use.
The past year has also shown us some piece of fine foreign silver. From Spain, A 20th-century three masted Nef was, like the Victorian mustard pot, a centrepiece with a role to entertain.  The table ornament be a delight to any guest. Then, from Austria, a pair of late 19th-century twin handled vegetable tureens, liners and covers, shows us the work of one of Austria's finest silversmiths from the period: Josef Carl Klinkosch. The decoration to these articles are a prime example of the meticulous detailing in his stylistic designs.
Our auctions, or more particularly the pieces within them, have captured the attention of many individuals across the globe. Our recent offering from the Mildmay service was presented to sale after the success of a previous lot, from the Anson Service and the articles compiled on these pieces helped to promote these pieces to international private clients.
This overview of only some of the biggest highlights of the past year has presented us with an array of fine silver goods, all of them unique in their own way. Moreover, all of the objects presented here, carry a story behind their beautiful silver gleam. Our e-newsletter of the 'Polished Article' keeps clients up to date with recent successes and upcoming consignments. If members wish to subscribe,  please do not hesitate to contact me.
Kier.mulholland@lyonandturnbull.com
Roseburys by Georgina Agnew
Rosebury's Fine & Decorative year finale this November was one of our best silver sales to date – thanks in part to a wonderful assortment of private collections brightening up the cabinets! The late designer Anthony Powell's impressive and varied collection of 17th-Century trefid, puritan and slip-top spoons was a particular highlight, with one of my favourite examples, a Charles II lace-back silver trefid spoon by Thomas Cory (London, 1680) – hammering for £1500. A very nice pair of puritan spoons by Steven Venables also sold well for £2600.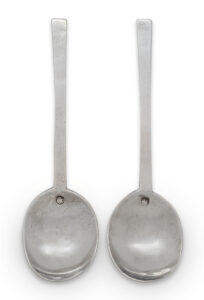 While I will miss congratulating myself with Lot 2 – a lovely Victorian cycling trophy by Edward Ker Reid – having crept up Brixton Hill on my bike in the morning, I was pleased to see it sell so well for £1,600. The trophy dates back to the (then pretty perilous) early days of the sport, when cyclists were treated with suspicion and hostility – some things never change! I delved into The Victorian Cyclist blog following a tip-off from a colleague – well worth a read if you're interested – and particularly enjoyed this snippet of 19thcentury advice: 'unless a lady possesses extraordinary nerve, and also is a really expert wheelwoman, the streets of London are no place for her to indulge in cycling'.Thankfully I'm not having to tackle my commute in full skirts and a corset.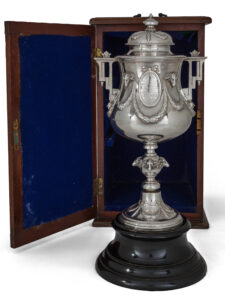 As a Russian speaker I always enjoy researching and identifying Russian silverware. A highlight of this sale was an impressive, jewelled silver kovsh with the mark of Orest Kurlyukov – the son in law of Ivan Khlebnikov, who ran one of Moscow's leading silver and jewellery firms. Kurlyukov is perhaps better known for his enamelled silverware and pieces in the Art-Nouveau style, so the strikingly contemporary design of this kovsh made it especially unusual and interesting. A number of interested parties fought hard on the phones and internet until a bid of £11,000 finally clinched it.
Sights are now set on February's Fine & Decorative Silver sale and another exciting year of auction action at Roseberys! Festivities first, however…! I hope you all have a very Merry Christmas and a Happy New Year
Ducal candelabra sold in Paris – Report by Roger Rosewell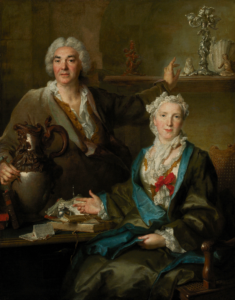 Portrait of Thomas Germain and his wife Anne-Denise Gauchelet, by Nicolas de Largillière (Calouste Gulbenkian Museum, Lisbon , Portugal)
A well-known pair of figural candelabra by George Wickes (London 1744) was among the star lots sold by Sotheby's in Paris on 14 October 2022.  They were part of a five-day sale of superb English and Continental silver, together with other outstanding decorative works of art, collected by His Highness Sheikh Hamad Bin Abdullah Al Thani of Qatar for his former residence at the Hotel Lambert. The candelabra were lot 826; they  measure 17in  high and weigh 293 oz.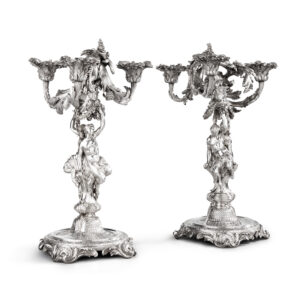 The Kildare candelabra by George Wickes
(Image courtesy of Sotheby's)
The candelabra are identical copies of examples made in the 1730s by the French royal goldsmith Thomas Germain (1673-1748) which are illustrated in his portrait by Nicolas de Largillière painted in 1736. Each candelabra sits on a circular base raised on four scroll and shell feet. The stem rises from a circular well chased with panels of basket weave and supports a male and female satyr holding aloft a campana-shaped socket applied with garlands of oak leaves. They have three swirling sunflower branches supporting everted foliated sockets.
They were supplied by Wickes to James Fitzgerald (1722-73), an Anglo-Irish landowner, soldier and politician who succeeded his father on 20 February 1744 as the 20th Earl of Kildare. He was later raised to the Dukedom of Leinster in 1766. His wife was the great-granddaughter of Charles II.
The Wickes ledgers contain details of the sale to the Earl of Kildare. The candelabra cost £95.3s 6d plus a making charge of 10 shillings an ounce resulting in a total invoice of £154.
At the Hotel Lambert sale, they sold for EURO 541,000 including BP.
See: Elaine Barr, George Wickes, Royal Goldsmith, 1698-1761, London, 1980, pp. 84-86. Further details can be found in the Sotheby's catalogue of the sale.