With the further postponement of the Society's rescheduled visit to Salters' Hall a month or so earlier, this handling session at the V & A, hosted by Alice Minter, of the Gilbert Collection of gold boxes, was the first such event to go ahead since the emergence almost two years ago of covid19 and the restrictions imposed on social interactions that it provoked. Even then it was at risk from the arrival in the UK of the omicron variant and the first throes of winter disrupting train services on the day. However, three groups were scheduled through the day to view and handle a selection of eleven pieces chosen from the collection by Alice and two colleagues.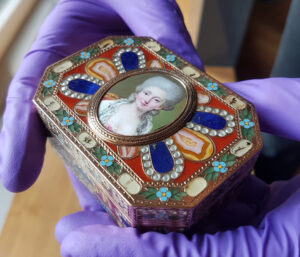 The collection comprises some 200 or more pieces, mostly snuff boxes, from the eighteenth and nineteenth centuries, made around Europe including Russia, Switzerland, Germany and mainly France, as well as England, which had been assembled by Sir Arthur and Rosalinde Gilbert through the 1970's and 1980's, after their move to Los Angeles. It sits alongside their collection of Gold and Silver, which was the subject of a previous handling session, which Alice also hosted in 2019. (See Newsletter 101) and alongside their collection of Micromosaics, all of which are on permanent loan to the V & A.
My own knowledge and understanding of gold boxes was hitherto a blank canvass. The Gilbert Collection represents the very finest examples of what had become a fashion accessory, perhaps demonstrating wealth or status, and may have been used as personal or diplomatic gifts. Without exception they demonstrate exquisite craftsmanship and the benefit and joy of being able to handle them at this meeting cannot be overstated.
To cover all eleven items that we were privileged to hold is beyond the remit of this account but I would highlight the remarkably detailed chasing of a biblical scene, 'Rebecca at the well', on a gold snuff box by Louis Mettayer, and a rectangular gold mounted "verre églomisé" (reverse painted and gilded glass) snuff box by Joseph-Etienne Blerzy of Paris with Roman classical scenes adorning the panels, for their decorative finesse.
Other items to catch the eye included a gold and enamel double compartment snuff box and watch by George Michael Moser of London. Such items were apparently marketed as "toys" rather than snuff boxes, indicating the importance of their playful design over their practical function. Lastly, we saw an enamelled, champlevé gold toothpick case set with diamonds, with compact mirror in the lid and a compartment with a lock of hair, commemorating 1st Baron Ongley with an inscription around the rim. To have a toothpick holder set with diamonds must be close to the height of opulence.
A glimpse at the V & A catalogue for the whole collection reveals that there are many more gems to be found among the other two hundred or so boxes. To have Alice Minter's and her colleagues' selection was delight enough but surely the embellishment by her knowledge and exposition of the stories behind them made this visit a truly worthy resumption of the Society's regular handling sessions.