For this year's edition of Elements we were delighted to welcome back, in conjunction with the Incorporation of Goldsmiths, silversmiths and jewellers from all over the country in person from as far north as Shetland to Cornwall. Now in its 8th year, the saleroom in Edinburgh teamed recent Scottish college graduates with industry stalwarts all able to discuss their making processes and to sell their products.
Traditional working practices are still a key element within many silversmiths' making processes. Annabel Hood and Katie Watson include hand engraving to create visually appealing surface decorations: Watson uses engraving to create imaginative illustrations of lively creatures and scenes from nature whilst Hood uses the technique to engage the mind of the viewer and allude to her inspiration from climate change. Echoes from nature also combine with tradition in Scott Smith's work; he uses carving, raising and casting of wood chips found in his studio, in a meditative way to create his silverware, which is inspired by the wild Scottish landscape.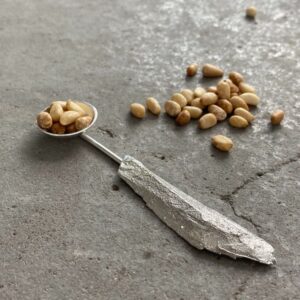 Scott Smith
Scott Smith was one of the speakers for our Saturday evening talk in conjunction with the Goldsmiths' Craft and Design Council winners exhibition on display, which saw Fred Rich's impressive 'Fair Game' enamel vases on display. As the recipient of the 2D Goldsmithing Award sponsored by Gosset Champagne, Smith discussed his rapid rise in the industry. Other speakers included Lynne Maclachlan. A joint talk by Theresa Nguyen and John Andrew showed the relationship between patron and silversmith and the astonishing result of her 'Meadow Centrepiece' which came to fruition during lockdown.
Inspirations from nature and Scotland are also present in Emma Louise Wilson's work. Wilson takes her inspiration from the Scottish landscape and weather and creates unique silver bowls by hand-raising in a contemporary way. Several of the silversmiths purposely apply traditional techniques to reinvent and revive. Both Wilson and Jessica Jue offered insight into how tradition can be reinvented; Jue uses the hammering to give expression to her sculptural designs which convey a sense of rhythmic movement. Kyosun Jung intentionally uses traditional techniques, to revive them; her contemporary silverware blends modest form with animated decorations to create objects with great visual impact.
Digital techniques also combine with traditional metal working skills to create innovative silverware. Sheng Zhang and Caiyan Yin, (the most recent recipient of the Silver Society Prize), use digital techniques to produce work which conveys the aesthetics of minimal style, demonstrated through purity of visual language. Karen Westland makes handmade 3D printed silverware using 100% recycled materials inspired by equipment built to explore outer space.
A fascinating process was shown by Alice Fry who uses electric current at different voltages run through niobium to create a variety of hues from orange to purple. A technique first explored in the 1960s Alice has honed her skill and now has an instantly recognisable product with her geological inspired forms.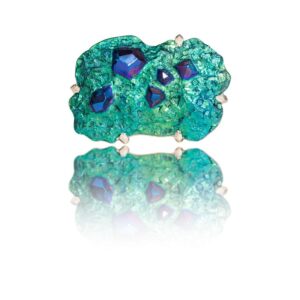 Alice Fry
This selection of Element's exhibitors and the emerging talent from the colleges show how diverse and imaginative all the techniques and works are. We were delighted to welcome so many people back into the sale room at Lyon & Turnbull auction house for Elements Festival which gives clients the opportunity to really engage with each maker.