Taking a retrospective look at the past year of sales, gives a great opportunity to view many of our highlights. Click on the underlined items to see the item.
As the market leaders of silver in Scotland, we are able to uncover some especially rare pieces.  At Lyon & Turnbull, our year begins in August with the annual Scottish sale. One discovery, a pair of Scottish provincial salvers presents the high standard of work by John Baillie of Inverness, and are in fact the only salvers documented by an Inverness maker. Scarcity is key to the popularity of Provincial silver and with only three masking spoons of this unusual design known from Tain, it is not hard to see why there was such interest, especially with the intricate stem. Provincial silver illustrates the far-reaching centres of commerce predominantly between the second quarter of the 18th century to the early 19th century, around Scotland from Forres and Banff in the North to the West with Greenock to name just a few.
Shifting our attention to a more contemporary period, the work of Graham Stewart based in Stirlingshire has really started to gain traction in the secondary market. Following his untimely death in 2020, a collector's market is now becoming more and more apparent. A bellied water jug with it's elongated scrolling forms, exemplifying his stylistic sensibilities which were drawn mainly from nature. This is also seen in the hexagonal form of a 'honeycomb' candlestick. The fundamental intertwined nature of silver pieces and their story is an important facet of what makes silverware so intriguing. Hence, the fact that most vendors met and bought from Graham Stewart personally, is a key aspect to why these pieces are appreciated.
The ability that silver has to bring people together has always been the case, silverware adorned tables where they could be admired by dining guests. A couple of highlights which portray this dining culture which have been sold over the past year are most recently A scarce Victorian novelty silver and parcel-gilt mustard, formed as a seated monkey. The novelty form enhances any dining table, and grants us insight into the great care that went into a grand Victorian dinner party. Additionally on a much larger scale, lot  A Victorian soup tureen,adorned with the family armorials of Campbell and Bannerman, continues this sentiment into the more domestic and practical sphere, as great care and investment was put into items of use.
The past year has also shown us some piece of fine foreign silver. From Spain, A 20th-century three masted Nef was, like the Victorian mustard pot, a centrepiece with a role to entertain.  The table ornament be a delight to any guest. Then, from Austria, a pair of late 19th-century twin handled vegetable tureens, liners and covers, shows us the work of one of Austria's finest silversmiths from the period: Josef Carl Klinkosch. The decoration to these articles are a prime example of the meticulous detailing in his stylistic designs.
Our auctions, or more particularly the pieces within them, have captured the attention of many individuals across the globe. Our recent offering from the Mildmay service was presented to sale after the success of a previous lot, from the Anson Service and the articles compiled on these pieces helped to promote these pieces to international private clients.
This overview of only some of the biggest highlights of the past year has presented us with an array of fine silver goods, all of them unique in their own way. Moreover, all of the objects presented here, carry a story behind their beautiful silver gleam. Our e-newsletter of the 'Polished Article' keeps clients up to date with recent successes and upcoming consignments. If members wish to subscribe,  please do not hesitate to contact me.
Kier.mulholland@lyonandturnbull.com
Roseburys by Georgina Agnew
Rosebury's Fine & Decorative year finale this November was one of our best silver sales to date – thanks in part to a wonderful assortment of private collections brightening up the cabinets! The late designer Anthony Powell's impressive and varied collection of 17th-Century trefid, puritan and slip-top spoons was a particular highlight, with one of my favourite examples, a Charles II lace-back silver trefid spoon by Thomas Cory (London, 1680) – hammering for £1500. A very nice pair of puritan spoons by Steven Venables also sold well for £2600.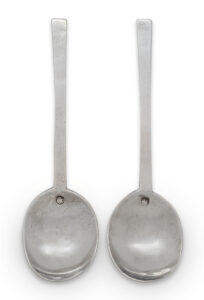 While I will miss congratulating myself with Lot 2 – a lovely Victorian cycling trophy by Edward Ker Reid – having crept up Brixton Hill on my bike in the morning, I was pleased to see it sell so well for £1,600. The trophy dates back to the (then pretty perilous) early days of the sport, when cyclists were treated with suspicion and hostility – some things never change! I delved into The Victorian Cyclist blog following a tip-off from a colleague – well worth a read if you're interested – and particularly enjoyed this snippet of 19thcentury advice: 'unless a lady possesses extraordinary nerve, and also is a really expert wheelwoman, the streets of London are no place for her to indulge in cycling'.Thankfully I'm not having to tackle my commute in full skirts and a corset.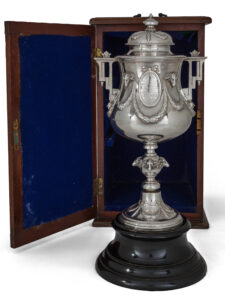 As a Russian speaker I always enjoy researching and identifying Russian silverware. A highlight of this sale was an impressive, jewelled silver kovsh with the mark of Orest Kurlyukov – the son in law of Ivan Khlebnikov, who ran one of Moscow's leading silver and jewellery firms. Kurlyukov is perhaps better known for his enamelled silverware and pieces in the Art-Nouveau style, so the strikingly contemporary design of this kovsh made it especially unusual and interesting. A number of interested parties fought hard on the phones and internet until a bid of £11,000 finally clinched it.
Sights are now set on February's Fine & Decorative Silver sale and another exciting year of auction action at Roseberys! Festivities first, however…! I hope you all have a very Merry Christmas and a Happy New Year
Ducal candelabra sold in Paris – Report by Roger Rosewell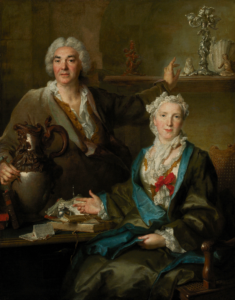 Portrait of Thomas Germain and his wife Anne-Denise Gauchelet, by Nicolas de Largillière (Calouste Gulbenkian Museum, Lisbon , Portugal)
A well-known pair of figural candelabra by George Wickes (London 1744) was among the star lots sold by Sotheby's in Paris on 14 October 2022.  They were part of a five-day sale of superb English and Continental silver, together with other outstanding decorative works of art, collected by His Highness Sheikh Hamad Bin Abdullah Al Thani of Qatar for his former residence at the Hotel Lambert. The candelabra were lot 826; they  measure 17in  high and weigh 293 oz.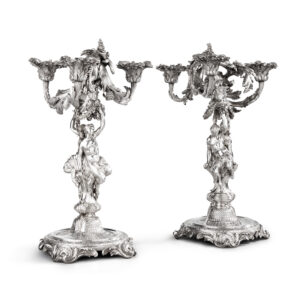 The Kildare candelabra by George Wickes
(Image courtesy of Sotheby's)
The candelabra are identical copies of examples made in the 1730s by the French royal goldsmith Thomas Germain (1673-1748) which are illustrated in his portrait by Nicolas de Largillière painted in 1736. Each candelabra sits on a circular base raised on four scroll and shell feet. The stem rises from a circular well chased with panels of basket weave and supports a male and female satyr holding aloft a campana-shaped socket applied with garlands of oak leaves. They have three swirling sunflower branches supporting everted foliated sockets.
They were supplied by Wickes to James Fitzgerald (1722-73), an Anglo-Irish landowner, soldier and politician who succeeded his father on 20 February 1744 as the 20th Earl of Kildare. He was later raised to the Dukedom of Leinster in 1766. His wife was the great-granddaughter of Charles II.
The Wickes ledgers contain details of the sale to the Earl of Kildare. The candelabra cost £95.3s 6d plus a making charge of 10 shillings an ounce resulting in a total invoice of £154.
At the Hotel Lambert sale, they sold for EURO 541,000 including BP.
See: Elaine Barr, George Wickes, Royal Goldsmith, 1698-1761, London, 1980, pp. 84-86. Further details can be found in the Sotheby's catalogue of the sale.