Initially, because Goldsmiths North 2020 was cancelled due to Covid, the committee of the Silver Society was not sure that it was going to be able to award its annual Silversmithing Prize given to the best young silversmith exhibiting at the show but, after discussion, the decision was made to run the competition virtually.  Entrants were asked to make their submission online either as a video or a portfolio of a specially made, or a pre-existing piece of silver.  We asked that the submission should include images of the piece, a description of its manufacture and the hallmarks as well as design drawings and a commentary on the sources of inspiration.  The award was made at the end of 2020: too late for it to be announced in the Silver Society Journal for that year.
In the end twenty-four entries of a very high standard were submitted and, because the competition was run virtually, we had entries from Europe and the United States as well as the United Kingdom.  Rod Kelly and Angela Cork judged the competition and after much consideration they selected Manasi Depala's Dreamy Dish as the overall winner of the prize and Katie Watson was awarded a prize for the best newcomer for her Circle of Life Dish.
The judges felt that Manasi had produced an extremely beautiful dish that demonstrated a really high level of technical accomplishment in both its silversmithing and chasing.  The low relief chasing is crisp and sharp: it takes a great deal of skill to outline and chase decorative images in low relief such as those used by Manasi, especially as the design flowers over the tightly curved surfaces of the dish into the centre of the piece.  Work of this standard requires a high degree of control to perfect and the finial finishing of the dish is of a very high standard.
The design of Manasi's pieces is a fusion of both her Indian and British heritage; it is a juxtaposition of both Indian and Arts and Crafts traditions making it unique and intensely personal. The judges commented:
We applaud her for a very pleasing, well-made design – it is a quite remarkable achievement for someone of her age who is still at the start of her career.  We really look forward to seeing how she develops and hope that winning the prize will help her progress her work and her career.  The Dreamy Dish is a shining example of a piece of work by an emerging silversmith who will grow with confidence and go on to produce many more wonderful commissions.
After she heard that she had won Manasi responded:
I am delighted to win the Silver Society Prize for my Dreamy Dish.  Due to its undulating shape, it has been the most difficult piece of chasing I have attempted so far, but I am looking forward to pushing myself to make even more exciting and challenging pieces of silver in the near future.  Winning this prize at such an uncertain time is encouraging and a real boost to help me pursue my passion for silver.  I am excited and looking forward to the opportunities that winning this prize will create.
The judges felt that for someone just embarking on their career, Katie Watson's work demonstrated her great potential to become a fine silversmith.  Her piece demonstrated her ability to tell a story through her very individual approach to decorative chasing and exhibited a considerable competency in the construction of such an ambitious piece.  Her personal chasing style, which is self-taught, is uniquely distinctive and they hoped that, through supporting her with this award, she will continue to develop and refine her chasing and repoussé skills alongside her making.  They were particularly impressed by the complexity of the dish, created in 2020 without any one-to-one physical support and felt that her work will become more accomplished, tell even more interesting stories and be ever more beautiful.
Manasi obtained a BA in Jewellery and Object from the University of Lincoln where she developed confidence in her design ability and model making but after graduating she felt a lack of practical hand skills and so went on to complete a post graduated year at Bishopsland.  It was here that Manasi was introduced to silversmithing and began to move away from making jewellery and she particularly enjoyed chasing and repoussé during her year at Bishopsland which was taught by Rod Kelly.  She then furthered her skills in chasing through a six-month intensive course with Rod Kelly awarded to Manasi through the Queen Elizabeth Scholarship Trust.  After gaining more confidence in her chasing skills she won the Goldsmiths' Company Studio Internship Graduate Award and was then able to refine her silversmithing skills further through sixteen weeks of training with three different silversmiths: Ray Walton, Angela Cork and Rod Kelly.
She now has her own workshop in Leicester and enjoys working on commissions and likes to develop new ideas for pieces for exhibitions and craft fairs.  She continues to specialise in low relief chasing and particularly enjoys the commissioning process and likes to tell a personal story for a client through her chasing.
We were delighted that in March 2021 Manasi was able to participate in a Silver Society meeting together with Patrick Davison and Samuel Waterhouse, winners of the Silver Society Prize in 2017 and 2019 respectively; these talented young craftsmen discussed their work, the sources of their working methods and their inspiration.  Manasi can be contacted via her website: www.manasidepala.com
Katie Watson graduated from Glasgow School of Art in Jewellery and Silversmithing in 2018.  She continued her creative journey from a studio in Edinburgh, as a graduate in residence before moving on to Bishopsland where she was able to work creating new pieces in the idyllic Oxfordshire countryside.  After a year she continued at Bishopsland as their Artist in Residence but she has subsequently moved back to Scotland to set up her own workshop.  She has now worked with many great silversmiths including Bryony Know, who taught her chasing, as well as Michael Lloyd and Rod Kelly.  She includes Miriam Hanid, Angus Macfadyen and Angela Cork amongst other makers who have helped her along the way.  Her work has been exhibited in Edinburgh, London and the Netherlands and she has won, amongst other prizes, the New Maker Award at Elements in 2019 and two bronze awards in the Goldsmiths Craft and Design Council Awards in 2021 for her Circle of Life Dish in the chasing category and also silversmithing design.
Having had a passion for painting since she was young Katie decided to channel her creative energy through the craft, which she feels is a bridge between art and design, using silver as her canvas.  She translates her drawings onto the surface of the metal using her illustrative chasing and repoussétechniques.  The designs for Katie's work start with a walk through the woodlands, along the coast and across the mountains mainly around her home town of North Berwick and the Isle of Arran in Scotland.  While she is on these adventures she draws and studies anything that captures her attention in detail, and creates a design enriched by her imagination.  The intention is to transport the viewer on a journey, immersed in nature and surrounded by wildlife; she brings scenes to life by conveying a sense of motion within each piece, from interweaving of the flow of ripples on water, the movement of wild grasses swaying in the wind and birds soaring high.  Katie's work can be seen on her website: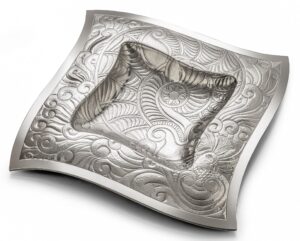 Dreamy Dish, London, 2020, sponsor's mark of Manasi Depala
(Photograph: Richard Valencia)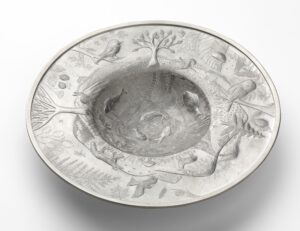 Circle of Life Dish, Edinburgh, 2020, sponsor's mark of Katie Watson
(Photograph: Tod White Photography)
Detail of Dreamy Dish, London, 2020, sponsor's mark of Manasi Depala
(Photograph: Richard Valencia)
Four Seasons Beaker, Edinburgh, 2021, sponsor's mark of Katie Watson
(Photograph: Simon Armitt Photography)