In 2021 we were, once again required, to run the Silver Society Prize for Silversmithing virtually and it has been decided that we will continue to use this method as it enables more craftspeople, including those from overseas, to submit entries.  Once again we had a good number of entrants, whose submissions were of a very high standard, original, very varied and intriguing.  The parameters of the Prize were slightly changed so that, rather than being open only to silversmiths under thirty-five, we could include those who were older than this but still in their first five years of working as a practicing silversmith.  This enabled entrants who have come late to the craft to apply.
Rauni Higson and Clive Burr very kindly agreed to judge the Prize and they settled on Rebecca Oldfield at the winner with her Iris Wall Sconce. They felt she was a worth winner because
Rebecca's presentation was detailed, clear, and impressively professional.  The research and development that went into her design were evident, with consideration for details like hidden fixings and ease of cleaning.  Prototyping the entire piece in gilding metal obviously contributed to the finesse of the end result.  It was well designed, and well executed.  We will look forward to seeing how Rebecca's work develops in the future.
Rebecca's inspiration for the piece lay in microscopic photography, particularly in that of insects and plants.  In her presentation she explained how she enjoys incorporating patterns and structures found in microscopic imagery, which cannot be seen with the naked eye, into her work.  In the case of the wall sconce she used images of the iris of the human eye which she found to be very beautiful.  After her initial sketches she drew up a design, using the lines and textures taken from images of the iris, which was followed by a period of experimentation with chasing and engraving, as wel as with aluminium sheet to work out the reflective surfaces of the piece.  Rebecca's piece also won a Silver Award in the Juniors 3D Craft Silversmithing category at the 2021 Goldsmiths Craft and Design Council Awards.
We were delighted that we were able to have an in person Silver Society meeting in October 2021 at the Goldsmiths' Centre and that Rebecca was able to join us that evening to receive her prize.  When she was told that she had won she responded:
I am absolutely thrilled to have won the Silver Society Prize for my Iris Wall Sconce!  This piece, made of Britannia silver, was a commission I received whilst attending Bishopsland Educational Trust.  The Iris Wall Sconce is my largest and most technically challenging piece to date and winning this award, along with hearing the wonderful feedback from the judges, means a great deal to me and gives me greater confidence to continue pushing myself and my future designs in silver.  I am very much looking forward to creating further large scale pieces from my new workspace in Cardiff and developing my skills.
Amongst those at the October meeting were Simon and Cathlyn Davidson who had commissioned the piece from Rebecca and they have described how it came about.
We commissioned Rebecca who was recommended to us by Bishopsland Educational Trust, to design and make a wall sconce from Britannia standard silver.  We gave her design parameters, i e the overall size, the diameter of the candle socket, the need for a convex shape with a plain silver centre to throw the reflected light from a candle; we also specified the requirement to be able to remove the candle holder for ease of cleaning.  Rebecca produced some design options and, once we had decided on the design we liked, proceeded to a mock-up. This was approved after further discussion and Rebecca started on the making.  We are very pleased and delighted with the end result and much enjoyed the commissioning process.
Rebecca is based in Cardiff, South Wales, where she works from an old coach house that she converted into a communal space last year; here she designs and makes jeweller and silverware to commission as well as ready to buy from her own collections.
After graduating from Cardiff School of Art & Design she attended the postgraduate programme at Bishopsland Educational Trust where she developed her skills in silversmithing.  Both her jewellery and silverware are inspired by a variety of sources including material experimentation, ancient and antique artifacts, as well as the structures and patterns found under a microscope.  Rebecca often combines traditional methods and modern technologies to realise and produce her work and her larger works generally feature contrasting polishing and large display hallmarks.  More of her work can be seen on her website: www.rebeccaoldfield.co.uk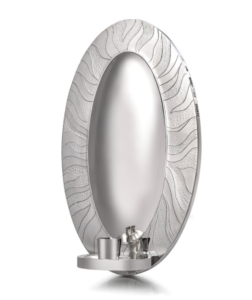 Iris Wall Sconce, Britannia standard, London, 2020, sponsor's mark of Rebecca Oldfield
(Photograph: Richard Valencia)
Raised vessel, Britannia standard, London, 2020, sponsor's mark of Rebecca Oldfield
Chased dish and spoons set, Britannia standard, London, 2020, sponsor's mark of Rebecca Oldfield
Bubble Tumblers, Britannia standard, London, 2019, sponsor's mark of Rebecca Oldfield
Raised vessel, Britannia standard, London, 2020, sponsor's mark of Rebecca Oldfield, detail of marks